So you're visiting my hometown, El Pueblo de Nuestra Señora la Reina de los Ángeles: home of Hollywood, tacos, actors, VEGANS, screenwriters, VEGAN SCREENWRITERS, earthquakes, BIRD scooters, the best CHINESE food outside China, KOREAN BBQ, BOBA, cold pressed juices, YOUTUBING as a career, VEGAN YOUTUBING as a career, and so much more. LA is one large city with no real public transit so there's definitely a lot to do. Here are some of my favorite things to do and eat in LA:
FIRST THINGS FIRST: GETTING YOUR ASS TO LA LA LAND
WE ARE THE HOME OF TRAFFIC AND FREEWAYS AND HOME TO ONE OF THE WORST AIRPORTS IN THE WORLD, LAX. YOU ARE WARNED HAHAHA.
See the Toyota prius above? This is a car. You need a car in LA. There is no doubt about it that because Los Angeles invented car culture and freeways and traffic. I highly recommend renting a car if you are going to do ANYTHING in LA because we don't have efficient public transit because we're too large of a city. You can HOTWIRE (hotwire.com) or Enterprise a car rental for on average of $20-30 a day and gas is about $35 a tank. Otherwise, UBER and LYFT will your friend and prepare to spend on average $200-300 a week on UBER/LYFTS to sight see and get around (and we're actually the cheapest city in America for Ubers). (THIS FIGURE IS AN AVERAGE FROM FRIENDS VISITING LA FROM OUT OT STATE/COUNTRY). Don't know how to drive? DON'T COME TO LA.
LA's 6 AIRPORTS (YES, WE HAVE 6)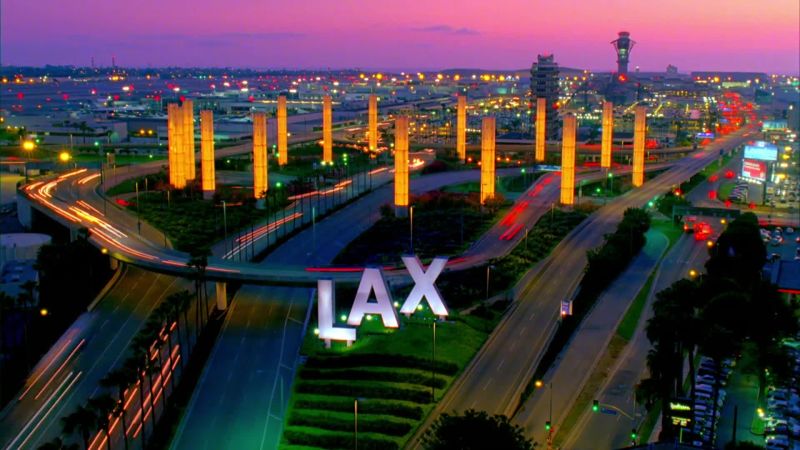 LAX INTERNATIONAL (LAX)
LAX is our international airport and one of the major hubs for America for Asian/Australian/Europe flights. LAX itself is a busy airport and traffic is always consistent. This is one of the only airports I arrive three hours early for international flights and two hours for domestic flights because LAX only has one way in and one way out.
LONG BEACH AIRPORT (LGB)
My favorite airport probably ever. LGB is where I fly Jetblue to either PDX, SF, New York JFK. Highly recommend you fly here if you are doing a domestic flight. NO TRAFFIC, LIKE EVER and 10-15 MINS SECURITY.
BURBANK AIRPORT (BUR)
Burbank is cool. Mad efficient airport as well but I live closer to Ontario and LGB so I hardly ever fly out of Burbank.
JOHN WAYNE AIRPORT (SNA)
Orange County's lone airport. SNA used to be my favorite airport but I always get stopped here for my camera gear and I always have to spend more time here than any other airport going thru my stuff. Shouts to TSA for doing your job though.
ONTARIO AIRPORT (ONT)
My second favorite airport in LA after Long Beach. Ontario just doesn't fly places I need to go to but you can bet if I can fly Ontario, I WILL. ONTARIO JUST OPENED UP FLIGHTS TO TAIWAN SO YOU CAN BASICALLY GO TO ALL OF ASIA VIA ONTARIO AND THERE'S NO TRAFFIC!!!!!!!!!
VAN NUYS AIRPORT (PRIVATE, BUT SOME OF Y'ALL RICH RICH)
Home to private jets and helicopters. If you have someone taking you to Van Nuys, you got rich friends and I want to be friends with you.

BREAKING DOWN LA, THOTIANA.
Los Angeles itself is a large city that spreads 30 miles across but once you factor in the rest of LA county, Orange County and the IE, Palm Springs, and even down to San Diego, there's a LOT of ground to cover. I'm going to help you digest the main neighborhoods by grouping LA for you like how we Angelenos do out here.
POPULAR NEIGHBORHOODS/AREAS
DOWNTOWN LA (DTLA)
HOLLYWOOD
FAIRFAX/MELROSE
SUNSET BLVD
SILVERLAKE
VENTURA BLVD
MALIBU
THE HOOD
KOREATOWN
THE WESTSIDE
BEVERLY HILLS/RODEO
THE VALLEY
THE SGV
LONG BEACH
SOUTH BAY
THE OC
IE
1) 213 – MOST OF LA FROM DTLA. AND SNOOP DOGGS RAP GROUP WITH NATE DOG AND WARREN G- STILL FLY
https://www.youtube.com/watch?v=WrXQtE0wl8A
2) 310- THE WEST SIDE OF LA -"YOU BOUGIE HUH?"
3) 818 – THE VALLEY – EVERYONES AN ACTRESS OR IN THE INDUSTRY IN THE VALLEY
4) 626 – SAN GABRIEL VALLEY/SGV – OH WE KNEW BECAUSE YOU ARE ASIAN
5) 323 – MOST OF LA AND MID CITY LA
6) 424 – "OH, WHERE's THAT?" (AINT NOBODY GOT A 424)
7) 714 – OH YOU ARE VIETNAMESE AND FROM OC
8) 949 – OH, YOU ARE WHITE AND FROM OC
9) 909 – OH YOU COMMUTE 2 HOURS TO LA FOR WORK EVERYDAY
10) 562 – OH YOU FROM LONG BEACH YOU PROB A CRIP
TAKE THE 405 TO THE 10 TO THE 101 TO THE 5 TO THE 110 TO THE 22 (OUR FREEWAYS)
Our stars of the LA show are our freeways:
THE 10 – THE LARGEST FREEWAY IN THE COUNTRY: SANTA MONICA ALL THE WAY TO FLORIDA. THE 10 CUTS THRU ALL OF LA, DOWNTOWN, SGV, IE, AND ALL THE WAY TO FLORIDA
THE 405 – THE COASTAL FREEWAY THAT CONNECTS THE VALLEY TO ORANGE COUNTY
THE 5 – THE FREEWAY THAT CONNECTS SAN DIEGO ALL THE WAY TO CANADA. GOES THRU OC, LA, AND CONNECTS LA TO THE BAY AREA
THE 110 – THE PORT FREEWAY- DOWNTOWN LA TO THE PORTS OF LONG BEACH AND ALONG THE HOOD
THE 101 – THE HOLLYWOOD FREEWAY THAT STARTS IN DOWNTOWN LA, PASSES THRU HOLLYWOOD, AND GOES ALONG THE COAST ALL THE WAY UP TO SAN FRANCISCO
THE 210 – THE FOOTHILLS FREEWAY THAT RIDES ALONG THE MOUNTAINS. MAINLY FOR PASADENA
THE 710 – THE LONG BEACH FREEWAY – DOWNTOWN LA TO LONG BEACH
THE 605 – THE FREEWAY THAT CONNECTS THE FOOTHILLS TO LONG BEACH AND ORANGE COUNTY
THE 91 – CONNECTS THE BEACH TO ORANGE COUNTY – USEFUL FOR DISNEYLAND AND KNOTTS BERRY FARM AND FULLERTON
THE 22 – ORANGE COUNTY FREEWAY THAT CONNECTS LONG BEACH TO THE VIETNAMESE PART OF OC FOR GOOD FOOD
THE 170- THE FREEWAY THAT GOES FROM NORTH HOLLYWOOD THAT CONNECTS TO THE 5 NORTH TO THE BAY AREA
THE 105 – THE FREEWAY YOU TAKE TO LAX
THE 15 – THE FREEWAY THAT CONNECTS LA TO VEGAS
TOP 32 TINGS TO DO IN LA (EVEN THO SOME OF THIS SHIT IS MAD TOURISTY)
El Matador Beach in Malibu
Broad Museum in DTLA
THE HUNTINGTON LIBRARY in Pasadena
Hauser and Wirth Gallery in Arts District, DTLA
A Shop Called Quest in DTLA (Coolest comic book store)
THE LAMPS at LACMA (Mid City)
FAIRFAX
The Grove
Farmers Market at the Grove
Getty Museum
Griffith Observatory
Grand Central Market and Angels Flight
1,000 Steps Beach in Laguna Beach
Huntington Beach Pier
Rodeo Drive
Walk Runyon Canyon and Observe all the Selfies
Promenade at Santa Monica
Warner Brothers Studio Tour
Paramount Studio Tour
Santa Monica Pier
Venice Beach Boardwalk
Hollywood Walk of Fame
CATCH ANY GAME AT STAPLES CENTER
CATCH A DODGER GAME
DISNEYLAND
UNIVERSAL STUDIOS HOLLYWOOD
KNOTTS BERRY FARM
SIX FLAGS MAGIC MOUNTAIN
OLD TOWN PASADENA
NEWPORT BEACH CORONA DEL MAR
BALBOA PIER
CATALINA ISLAND (IF YOU GOT MONEY)
SO MUCH FOOD TO EAT IN LA, EVEN VEGANS GOT THEIR OWN SPOTS!
STRAIGHT TO THE POINT, RONZ TOP 25 PLACES TO EAT
Here's my top places list, in NO PARTICULAR ORDER because food is food and everything is good one day or another . I've linked the restaurants and best dishes to order from there.
NEWPORT SEAFOOD RESTAURANT (SAN GABRIEL)
https://www.yelp.com/biz/newport-seafood-restaurant-san-gabriel-4
This is probably the most commented and asked restaurant on my feed. It was featured on Netflix's Ugly Delicious and us SGV kids have been coming here since we were kids.
HANDS DOWN, BEST KUNG PAO CHICKEN IN AMERICA. Order this and the HOUSE special Lobster.

LUNASIA DIM SUM HOUSE (ALHAMBRA)
https://www.tripadvisor.com/Restaurant_Review-g29078-d2226861-Reviews-Lunasia_Dim_Sum_House-Alhambra_California.html
Hands down, one of the best places in America to get dim sum, even at night (Dim sum is usually only served until 1PM).
ORDER: siu mai dumplings, har gow shrimp dumplings, wonton with chili oil, shrimp rice noodle rolls
TIRE SHOP TACOS (SOUTH CENTRAL)
THE BEST TORTILLA IN LA, AND ITS CHEAP HERE
ORDER: EVERYTHING HERE
https://www.yelp.com/biz/tire-shop-taqueria-los-angeles
KANG HO DANG KOREAN BBQ (VARIOUS LOCATIONS)
ONE OF MY FAVE PLACES FOR KOREAN BBQ. THEY COOK FOR YOU HERE TOO. WARNING: ITS NOT ALL YOU CAN EAT HERE.
ORDER: BEEF SET (SMALL OR LARGE) and add PORK BELLY
https://www.yelp.com/biz/kang-ho-dong-baekjeong-los-angeles-4
QUARTERS KOREAN BBQ (KTOWN)
RIGHT ACROSS FROM KANG HO IN KTOWN is Quarters. One of the longest waits in LA. Prepare to wait 1-2 hours easily on any given night. WARNING: ITS NOT ALL YOU CAN EAT HERE.
ORDER: ALMOST EVERYTHING HERE
https://www.yelp.com/biz/quarters-korean-bbq-los-angeles
BESTIA (DTLA)
https://www.yelp.com/biz/bestia-los-angeles
ORDER: BONE MARROW, 32OZ PRIME RIB (OVER $135..), ANY PASTA
BRODARD's (WESTMINSTER)
ARGUABLY THE BEST VIETNAMESE RESTAURANT IN TOWN AND KNOWN AS THE BEST SPRING ROLL EVER (NEM)
ORDER: THE NEM NHUONG SPRING ROLLS, ROASTED DUCK SALAD, LOK LAK BEEF PLATE, BIRDS NEST NOODLES.
PHO LU (WESTMINSTER)
PHO 79 – WINNER OF JAMES BEARD AWARD (WESTMINSTER)
JITLADA (THAI TOWN)
ROBERT JINYA YAKITORI (WEST 3RD)
BROKEN MOUTH LEE's HOMESTYLE (DTLA)
SONORATOWN TACOS (DTLA)
HAMA SUSHI (LITTLE TOKYO)
ANJIN (COSTA MESA)
ALEX CAMPO's TACO TRUCK IN THE VALLEY (NORTH HOLLYWOOD)
CATCH LA (WESTSIDE)
ROBERTA's PIZZA (CULVER CITY)
PASTA SISTERS (CULVER CITY)
BOBA GUYS (CULVER CITY)
CAFE GRATITUDE (DTLA)
SQIRL (DTLA)
SUMMER ROLLS (SAN GABRIEL)
ROY CHOI's POT RESTAURANT (LINE HOTEL)
LEO's TACO TRUCK (LA BREA)

HONORABLE MENTION OR OTHER PLACES TO TRY
SUGARFISH (VARIOUS LOCATIONS)
PORTOS BAKERY (VARIOUS LOCATIONS)
BAD MAASH (INDIAN FOOD, DTLA OR FAIRFAX)
HOWLIN RAY's (CHINATOWN)
TACOS 1986
HALF N HALF TEAHOUSE (SGV)
GUISADOS (SUNSET in CHINATOWN)
DIN TAI FUNG (various locations)
THIRSTY COW (FOR ALL YOU CAN EAT KOREAN BBQ)
SHIN SEN GUMI HAKATA RAMEN (LITTLE TOKYO)
KIM KY NOODLES (SAN GABRIEL)
IN – N – OUT BURGERS – FAST FOOD MECCA
I myself don't eat In N OUT but that's because I don't eat a lot of burgers. However, you would be doing yourself a disservice to not even TRY. In N OUT is consistently the best burger because of it's prices and experience. It's always packed and there's always a line.
Pro tip: ASK FOR THE FREE HAT HAHA.
Second pro tip: animal style fries is the secret sauce on top of the fries.
What to get: Double double, with animal style fries, and a large neopolitan shake.
BEST WEEKEND GETAWAYS FOR LA
LAS VEGAS NEVADA (4 HOUR DRIVE or MORE DEPENDING UPON TRAFFIC)
PALM SPRINGS (2 HOUR DRIVE)
SANTA BARBARA AND WINE COUNTRY (2 HOURS NORTH)
JOSHUA TREE (2 HOUR DRIVE, REALLY CLOSE TO PALM SPRINGS)
BAY AREA (SAN FRANCISCO, SILLICON VALLEY)
SAN DIEGO
SALVATION MOUNTAIN AND SALTON SEA GHOST TOWN